Roll over image to zoom in
Black & Gold is a luxury watch you want on your wrist
Matthew Mercury Watches
Black & Gold set
The Black & Gold set is a stunning and sophisticated accessory collection that includes a Black & Gold watch and a Celestial bracelet. The Black & Gold watch features a sleek and modern design with a black dial, gold-tone hands and markers, and stainless steel strap. It's perfect for adding a touch of elegance to any outfit and can be worn for any occasion.
"The Celestial" bracelet complements the watch perfectly with its gold color and celestial-inspired crystals. The combination of the two accessories creates a cohesive and stylish look that will elevate any outfit. The bracelet features delicate gold-tone that represent the stars and the moon, adding a touch of magic and mystery to your ensemble.
The Black & Gold set is a must-have for anyone who loves classic and timeless style. Whether you're looking to dress up for a special occasion or add a touch of sophistication to your everyday look, this set has got you covered. It also makes a perfect gift for a loved one who appreciates the finer things in life.
| | |
| --- | --- |
| Case | |
| Size | 36mm |
| Thickness | 7mm |
| Finish | Polish |
| Color | |
| Dial | Black |
| Glass | Sapphire Crystal |
| Strap | |
| Hands | Gold |
| Movement | |
| Function | Double Date |
| Waterproof | 5 ATM |
| | |
| "The Celestial" | 18cm size |
All orders are shipped within 24 hours after purchase, except on weekends. Expected delivery time is 3-7 business days. We provide free worldwide shipping.
SWISS MOVEMENT
HANDMADE WATCHES
Black & Gold is a luxury watch you want on your wrist
SWISS MOVEMENT
HANDMADE WATCHES
UNIQUE KEY FEATURES
SWISS RONDA MOVEMENT
Powerful Swiss Movement from a historical watchmaker that has been around since the beginning of the 20th century. 5 jewels movements have earned a well-deserved reputation for their exceptional quality and performance.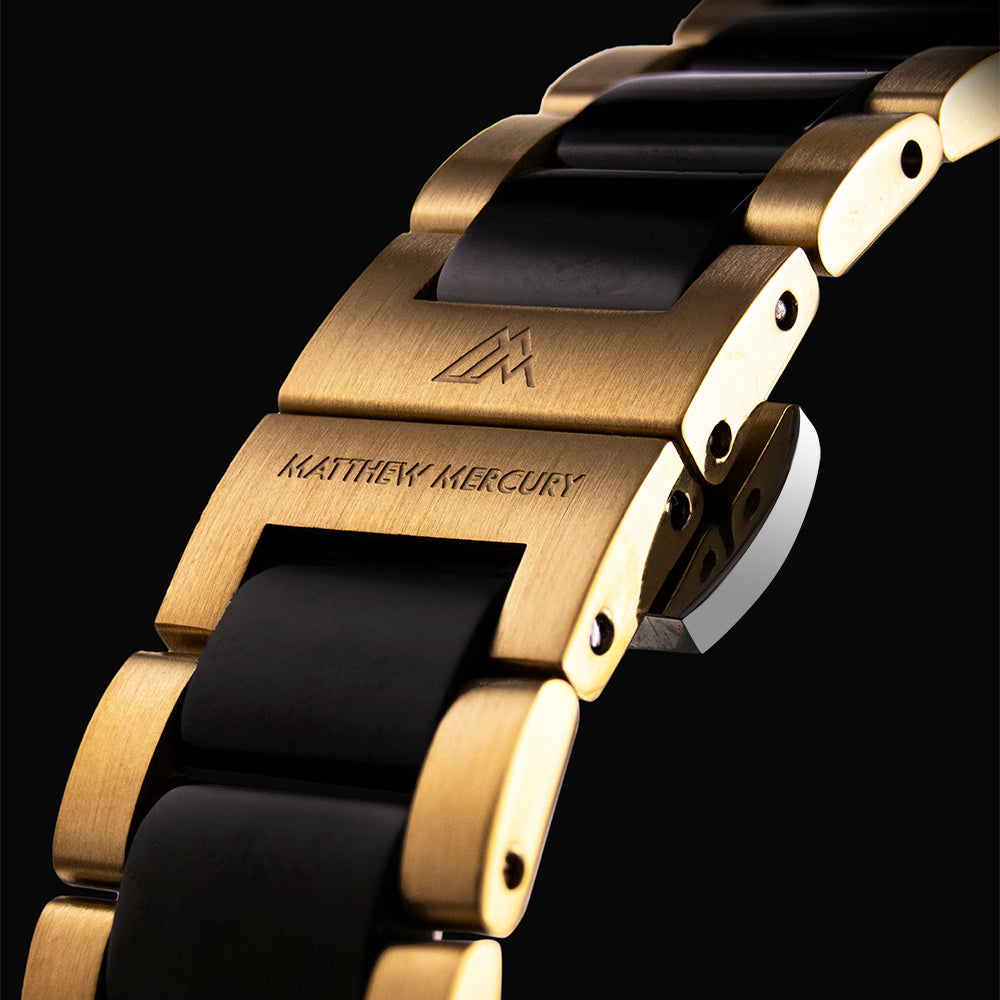 316L STAINLESS STEEL CASE AND STRAP
Renowned for its exceptional corrosion resistance and durability, this high-quality alloy is a staple in the world of watchmaking. Crafted to withstand the rigors of everyday wear, 316L Stainless Steel adds a touch of sophistication to your timepiece, ensuring it remains a cherished companion for years to come.
SAPPHIRE CRYSTAL GLASS
Engineered with exceptional hardness, this anti-scratch material ensures your timepiece remains pristine even through daily wear. Its superior scratch resistance and crystal-clear transparency make Sapphire Crystal glass the perfect choice for those who demand both elegance and reliability in their watches.
WATERPROOF
5 ATM water resistance ensures that it can withstand water pressure up to 50 meters or approximately 164 feet, making it ideal for everyday activities such as swimming, showering, and water sports. Its meticulously crafted construction includes sealed gaskets that keep water from entering the case, protecting the delicate internal mechanisms.
"Matthew Mercury understand something fundamental… "Affordable Premium" is more than just a saying, it is their goal, and they definitely stand by it."
"The watches are made of high-standard materials that ensure longevity. Anyone who owns one of these luxurious timepieces will enjoy using it for years to come."
"Clearly, this is not a mass-produced item; but rather a true masterpiece that was crafted with a lot of thought and thorough attention to detail!"
"The Mathew Mercury watch is precise, dignified, and marks the wearer as a true luxury watch connoisseur."
"Unlike other companies who merely imitate existing designs, you can see here a pure line of originality."